This Webinar Has Ended
=====
Online export has become an indispensable strategy for many manufacturers to find new business opportunities in the overseas market.  As the pandemic discourages physical interaction, including in-person business exhibitions, it forces businesses to digitalise to sustain, and seek business opportunities around the world the digital way.
We understand it's hard for businesses that have adopted the traditional way in the past many years to kick start online export, and that's the reason why we organized this webinar. 
Are you a Manufacturer/ Wholesaler? Are you facing these challenges?
Lack of knowledge of online export

Lack of talent to manage B2B marketplace platforms 

Lack of digital marketing skills on online export

Fear of uncertainty in kick-starting an export business online
You are in the RIGHT Place.
In this webinar, our online export specialists will guide you step-by-step on how to kick start online export using the world's most powerful B2B Marketplace platform. Additionally, you can expect to learn from a Malaysia successful exporter who will be sharing with you his secrets of achieving 1 million profits thru online export based on his real-life experience.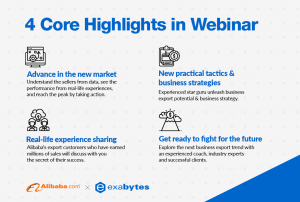 Become a PRO on online export today and Earn a net profit of 1 million in export sales!
**This is a once-in-a-lifetime opportunity to learn all the above as there won't be any video recording for the session. 
B2B Guidelines 101: Be an Export Pro and Kickstart Right Away
Date: 14 October 2021 (Thursday) 

Time: 10:00 AM – 12:00 PM

Platform: ZOOM
Who Should Join Us?
Manufacturers/Wholesalers: CEOs/Business Owners/Marketing Directors/Operation Directors who are ready (or still considering) to start an export business.

Agenda
[10:00 AM to 11:00 AM] The Secret Weapon of Making Millions of Sales from International Trade
By En Nordin, Marketing Director, Kugpis Sdn Bhd
[11:00 AM to 12:00 PM] B2B Guidelines 101: 5 Effective Export Tactics to Become an Export Pro
By Keith Leong, Business Development Manager, Exabytes
Speakers' Backgrounds   
Kok Wai, Digital Marketing Consultant, Exabytes
Kok Wai had five years of experience working in different industries before joining Exabytes as a Digital Marketing Consultant. Thanks to his vast career experience, he has mastered effective sales skills for the B2C and B2B markets. His customer portfolio consists of SMEs and big corporations in Malaysia. In the past three years, he has successfully assisted over 100 business owners to generate more than 1 million export sales annually.
En Nordin, Marketing Director, Kugpis Sdn Bhd
Having generated a whopping 1.9mil sales on Alibaba.com in 2019, En Nordin is the award recipient of eTrade eXporter MATRADE 2019, Malaysia, and an active trader of Alibaba Malaysia eCommerce Program. Moreover, he is an experienced trainer of B2B & B2C business platforms in collaboration with various government agencies and ministries of higher education. Other achievements of En Nordin include being a speaker for the eTrade Matrade program (Alibaba.com, TradeIndia.com and go4worldbusiness.com) to SMEs and government agencies (MARA, IKM, KEDA, MAFI and MATRADE) between the year 2018 to 2019, and an on-call consultant for TradeIndia.com for the Bumiputera Entrepreneur Program (Agency & private company) in Malaysia.
Keith Leong, Business Development Manager, Exabytes
Keith started his exploration in the Digital Marketing Industry 5 years ago. He gained extensive experience thru assisting more than 100 Exabytes SME customers in Malaysia and Singapore to grow their business online via multiple online platforms. Today, he is responsible for helping SMEs and big corporations to kick start online export using the world's most powerful B2B Marketplace platform, Alibaba.com. His customer portfolio includes those from the Manufacturing industry, Service industry, Education industry and Retail industry. As the Business Development Manager at Exabytes, he is leading a team that is committed to guiding and assisting local B2B businesses to expand their business globally thru Alibaba.com.