Unlock Your Exports Potential: Master the Art of Doubling Sales
5th December, 2023 (Tuesday)   |  Webinar
Get Your FREE Ticket Now!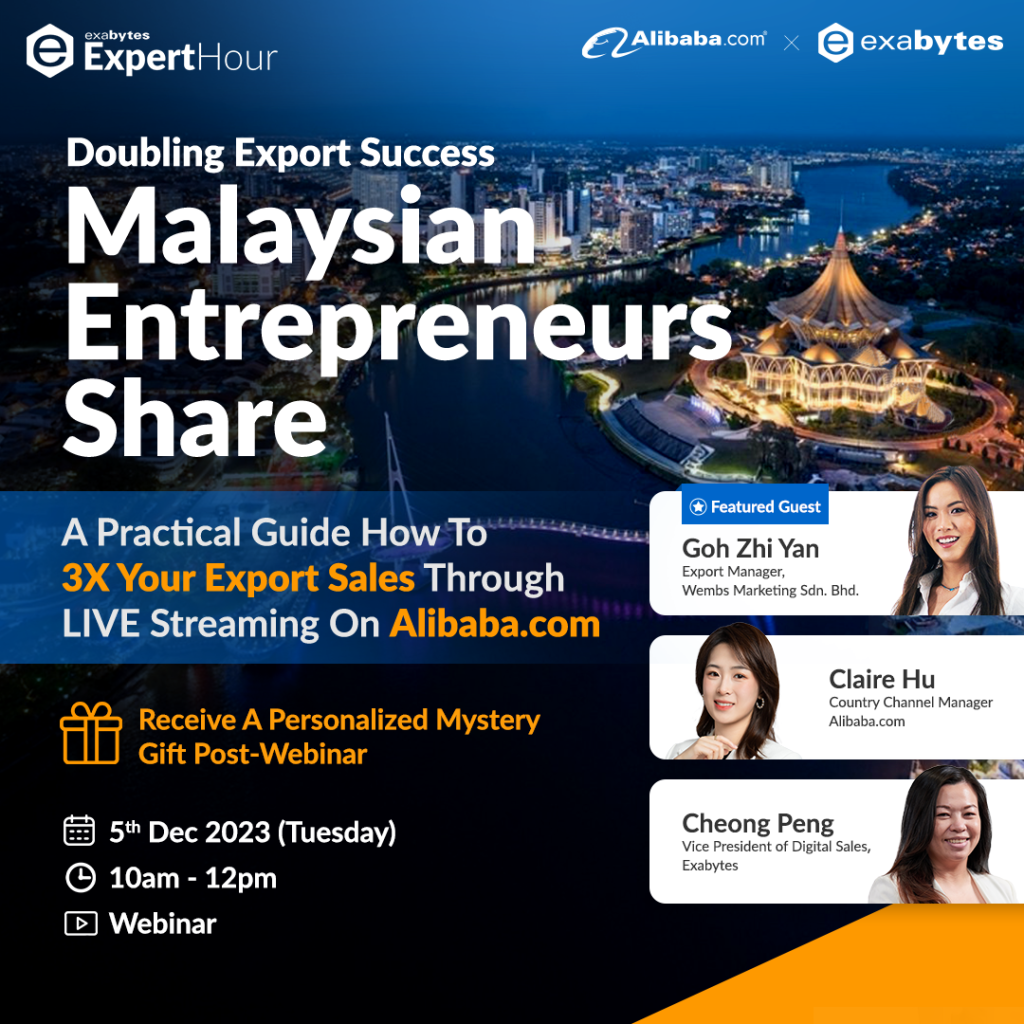 Have you ever thought about turbocharging your export business through live streaming?
Join us for an exclusive webinar with Malaysian Success Alibaba.com account holder, Zhi Yan, an expert with 6 years of experience who has harnessed the power of LIVE Stream to supercharge her sales.
Discover the immense potential of Alibaba.com, the world's leading e-commerce platform, and gain insights to boost your export business. Don't miss this opportunity!
Meet Our Featured Guest: Ms Goh Zhi Yan
Alibaba.com E-commerce Master 2021 Award Winner

With 6 years of experience on Alibaba.com, she doubled her company's size within 3 years. Renowned for her dynamic livestreaming sessions, she goes live twice a week, consistently boosting sales.
She's a Hidden B2B Master, and her expertise is your key to digital export e-commerce success!
Photo from Goh Zhi Yan Linkedin Profile
Alibaba.com stands as a pivotal e-commerce platform, dedicated to empowering small and medium-sized enterprises (SMEs) in their quest for global expansion.
If your goal is to reach a worldwide audience of B2B buyers, this platform offers you access to millions of potential clients.

To harness the true potential of this top-tier B2B platform, you must grasp some essential strategies.
These insider tips will guide you through Alibaba.com more efficiently, streamlining the processing of global B2B inquiries and accelerating your decision-making.
Uncover these secrets to success and supercharge your B2B journey!
Meet Claire: The Country Channel Manager from Alibaba.com
Claire's profound understanding of the Malaysian B2B market, gained through her extensive experience assisting numerous Malaysian exporters on Alibaba.com, enables her to offer tailored and practical strategic advice for individual businesses
---
Meet Cheong Peng: Empowering Visionary SME Businesses
Exabytes is a dedicated partner for SMEs, recognized as one of Alibaba.com's top channel partners.
Our commitment extends beyond just onboarding businesses; we take pride in providing comprehensive services that go the extra mile to enhance your value and success!
We've assisted 200+ Malaysian businesses in going global, doubling their sales!
Event Agenda*
| | |
| --- | --- |
| Time | Agenda |
| 9.45am – 10.00am | Welcome Guess and Introduction |
| 10.00am – 10.20am | Alibaba.com: The Essential Tool to Double Your Export Sales –  Claire Hu, Country Channel Manager,  Alibaba.com |
| 10.20am – 11.00am | How to achieve 3x Export Sales through Alibaba.com – Goh Zhi Yan, WEMBS Marketing, Alibaba.com Global Lecturer, Winner of Alibaba.com E-commerce Master 2021 |
| 11.00am – 11.30am | Q&A Session with Speaker |
| 11.30am – 12.00pm | Alibaba.com Package & Dream Trip Introduction |
*Event agenda subject to change based on unforeseen circumstances.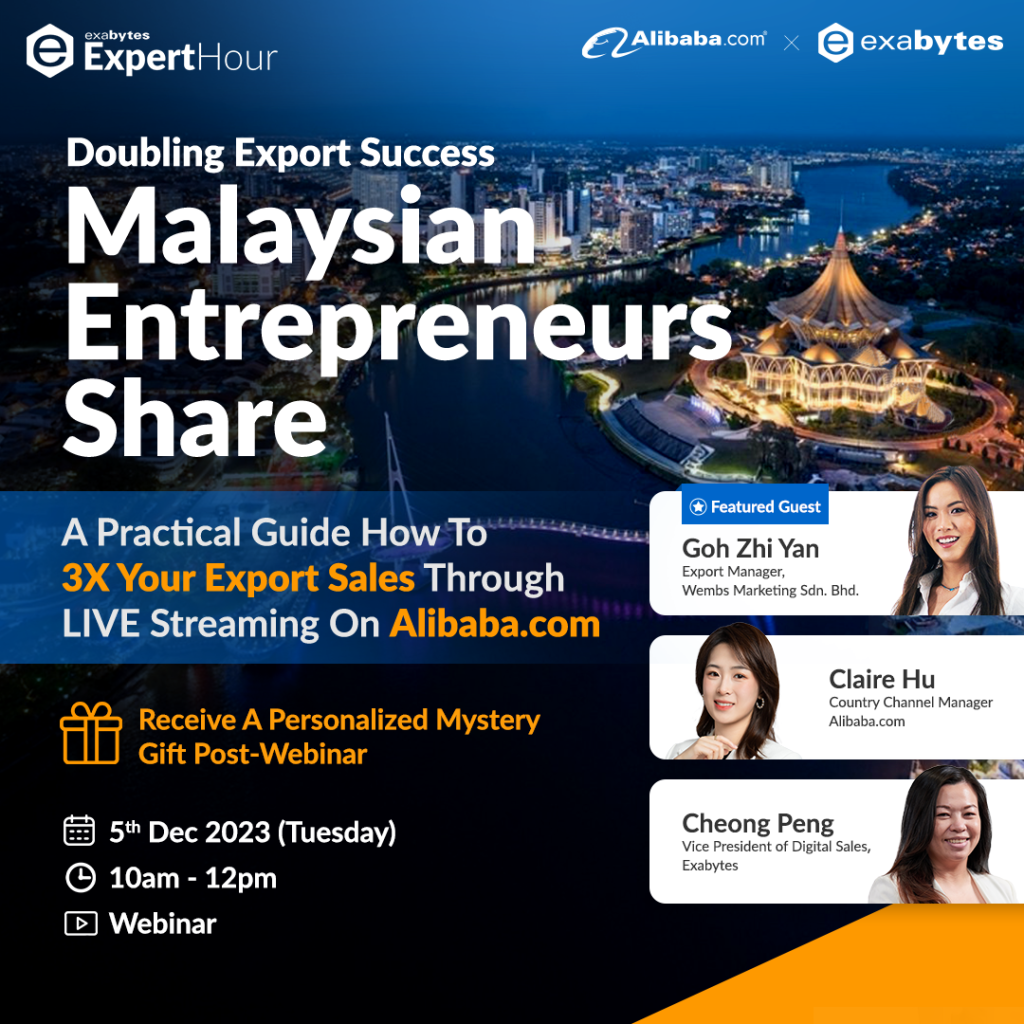 If you face registration issues, contact our team: Raymond at +012-293 7286
Click here to know more: Sell on Alibaba.com with Exabytes!