High-speed branded servers
Top-brand servers with high-quality Intel CPUs and RAM for consistently high performance on web content delivery.
Server based In Malaysia
Our entire infrastructure is manage by our own engineer located in KL Malaysia. Our Data-Center standard with Tier 3 verified.
SFTP/SSH access
Fast, convenient and more secured server communication via command line or filezilla upload.
1-Click installer
Activate all popular CMSs such as WordPress, Joomla and Drupal with just one click.
Free SSL certificate
Encrypts your website content and let your visitors know that you website is trustworthy and secure.
Automatic backup
Peace of mind that your website and email data is securely protected by automation daily backup.
5X Faster
With Lower Latency
3X Faster
With Caching Memory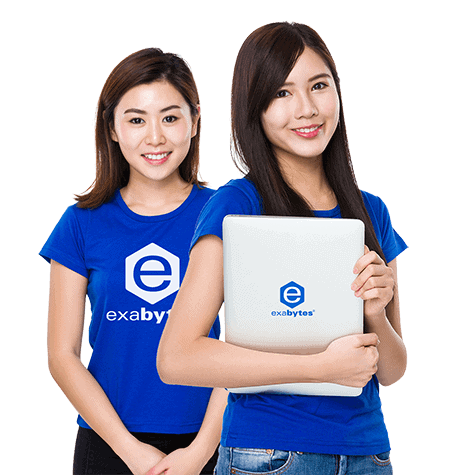 How long have you being in business?
We have been in the web hosting business since year 2001 and have received numerous awards and accolades over and over again.
How FREE domain works?
Free domain name applies to yearly plans only. The free domain name will be valid according to the year(s) of first-time signup. Upon hosting renewal, domain name is chargeable based on the current renewal price.
Where are your servers hosted at?
Our servers are hosted in Exabytes Data Center.
Do you provide any guarantee?
Yes. We provide 100-Day Full Money-Back Guarantee (excluding non-refundable setup fee), 99.5% Server Uptime Guarantee and 99.9% Network Uptime Guarantee.
Tell me more about the infrastructure of Exabytes.
We use the best hardware on the market. With your website/server hosted in a premium Data Center (in terms of service and location), we're confident in providing guarantees such as 100-Day 100% Money-Back Guarantee, 99.9% Network Up-time Guarantee and more.
Promotion price is applicable to new registration only. For renewal, the price will be reverted to default price.
Domain Name Money-Back Guarantee is valid for 3 days (from the date of payment). It will be refunded with Exabytes credits only.
For enquiries, please contact us.
You do agree to our terms of service available here.
Exabytes reserves the right to amend the terms and conditions of this offer without any prior notice.
Disaster Recovery service is performed on a best-effort basis. Exabytes does not guarantee full data restoration.
For full policy and more details on data restoration, please refer to Exabytes terms of services.