Detects and blocks malware missed out by other protection systems
Panda Adaptive Defense 360 is the first and only cyber-security solution to combine the features of the most effective traditional antivirus with the latest advanced protection technology and the ability to classify all running processes.
Equipped with detection and response services, it can accurately classify every process of your server's endpoints, allowing only legitimate programs to run.
Complete, robust and adaptable protection with the ability to run extended mode that only allows the running of goodware. This is the ideal form of protection for any corporate environment with a 'zerorisk' approach to security.
You can trace how and who is trying to access your data, thanks to detailed and intelligent traceability about everything that happens on your IT infrastructure: threat timeline, information flow, the behaviour of active processes, etc.
Defense Against Vulnerabilities
Thanks to the latest generation of contextual and behavioral rules, it is able to consolidate an environment that is secure in the face of system and application vulnerabilities, even when the programs are not updated.
You can configure reports and get alerts for any malware identified on the network, coupled with a comprehensive report detailing the location, the systems infected, and the action taken.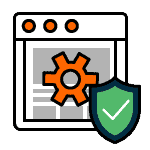 Forget about having to invest resources on hiring technical personnel to manage website security. Adaptive Defense 360 classifies all applications automatically so that they are under continuous supervision of PandaLabs specialized technicians.
The analysis, categorization and correlation of all the data from a range of external and internal sources allow the laboratories to automate the behavioral models that reveal malicious activities even before they're initiated.
Panda Adaptive Defense 360 can be enabled for your Exabytes Windows SSD VPS or Windows Dedicated Server!
Only RM20/month
Adaptive Defense 360 offers the greatest level of security, far ahead of any other antivirus on the market.
Adaptive Defense 360 monitors, registers, and classifies 100% of the running applications. Combined with EDR (Endpoint Protection & Response) features, it detects and blocks malware that other protection systems can't even see.
They only recognize malware but nothing else.
As they can't classify anything suspicious, these attacks post a huge security problem for traditional antivirus (especially targeted and zero-day attacks).
It monitors absolutely all the active processes.
Adaptive Defense 360 knows with certainty if a process is good or bad. It classifies absolutely everything so that there is no suspicion.
A Highly Automated Solution To Keep Your Data Secure
With Adaptive Defense 360, we monitor and classify all YOUR software to make sure we discover and stop all malware in YOUR systems. Adaptive Defense 360 provides automated remediation, real-time monitoring and reports, profile-based protection, centralised control of devices, as well as web monitoring and filtering.
Block non-goodware applications and exploits to prevent future attacks
Targeted and zero-day attacks are blocked in real-time without signature files
Forensic information for in-depth analysis of every attempted
Automated malware removal to reduce burden on administrators
Combining Panda's EPP and EDR Capability
Adaptive Defense 360 are two solutions in a single console.
Panda's best-of-breed EPP solution (Endpoint Protection Plus) is combined with EDR capabilities of Adaptive Defense to protect against zero-day and targeted attacks that take advantage of the 'window of opportunity for malware".
All prices are quoted in Ringgit Malaysia.
Strictly NO REFUND is allowed for Panda Adaptive Defense 360 purchases.
For enquiries, please contact us.
You do agree to our terms of service available here.
Exabytes reserves the right to amend any Terms and Conditions without prior notice.
Our Customers Found This Helpful, Rate Us
Rating: 5.0. From 1 vote.
Please wait...