Want to know More? Get your free consultation Now!
Contact our representative at 04-6097888
Build the eCommerce website you've always wanted. Whether you're just getting started or are an established brand, we have you covered. With over 30 impressive themes to choose from, our powerful yet user-friendly platform helps you to create an online store unique to your business. Join the large community of successful businesses growing eCommerce with us today!
Sell like a pro and stay worry-free with the following benefits:
Credit Card (PayPal) & Local Bank Transfer Gateway
Focus on your online sales as we setup the payment gateway for you.
Up to 20 email accounts with a webmail interface that work perfectly across mobile devices, tablets, and desktops.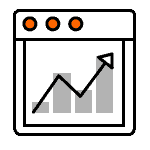 Collect and analyse your traffic and improve conversion rate with the data obtained.
An easy, all-in-one platform to sell your products – finally. Here are some free shipping credits to help you get started!
RM 249.00/mo
+ RM1000 One time setup fee
Usability Among Devices
Professional design including photos and copywriting created specifically for your business
3 Review Session + 14 Days Development
18 hours of Website Updating Services per year
25 Products Insertion + 5 information pages setup 
Accepts Credit Cards & Local Bank Transfer Payments
Store Analytics Reports
30+ Premium Themes
SSL Certificate
20 Premium Business Email Accounts
With instant access to our theme store, you can easily merchandise and organize your store, your way. With the freedom and easy-to-use tools, you can edit and manage your store without the need of design or technical expertise.
Shipment settings have never been easier. Just set the location where you'll be selling, then choose from the provided shipping options and rates for each destination.
Accept Payments Instantly
EasyStore has integrations with over 20 external payment gateways from around the world. Start accepting payments through both PayPal and major credit cards.
The responsive themes offer great opportunities to boost your brand and sales. This is why our eCommerce platform is the perfect choice to sell your products everywhere on, every device.
Reply automatically to customers from your Facebook page via Facebook Messenger and never miss a sale.
Multi-channel selling enables you to easily list and sell your products to where your customers are. Earn twice the revenue when you're selling on two or more channels.
EasyStore Powers Over 30,000 Businesses
" We learn that a very helpful feature from EasyStore is that they provide integration with many tools and apps, whereby users can easily promote their website in many different types of channels. Another great thing to share which I found is very handy, that it is very user friendly. Especially for users who are new in creating a webpage, this will lessen the time to go to into the market.
---
Dhany
D&A Shopping
" I was looking for an affordable website and I found EasyStore. This is half of what I'm paying to previous provider with same features. Except for the themes, EasyStore nailed it. I love that I can modify and change themes any time I want. I cannot do that with previous provider without paying extra fee. And the most important part is, the customer service is the greatest. I feel safe and cared for in EasyStore.
---
Ruby Narciso
Founder, Adada
" I love the simple about EasyStore. We do not actually needs a super knowledge of computer, programming or designs to use EasyStore. EasyStore provide a simple instruction to follow and once we know the basic, we just actively enhance it. EasyStore also update their platform quite frequent, which I always felt there are tons of professional working behind the scene just to bring simplicity to me.
---
Anson Ong
Founder, Azza Lamees
Our Customers Found This Helpful, Rate Us