Website builder is?
In previous post, we talked about how to get started with Exabytes Website Builder.
Now, to build a website, it's always easier if you get started by creating pages. FOCUS on pages that you think are important.
For instance,
HOME: A page to highlight everything you wish your visitors to see at first sight
ABOUT: A page to tell your history, background and credibility
CONTACT: A page for your web visitors to reach you
And of course, you could also have many other pages for your PRODUCTS & SERVICES.
Creating good and enticing website content shouldn't be something that stops you. If you have no ideas what/how to write, you could always hire a web copywriter / online content provider (such as www.GiantWriter.com – Recommended!) to do it for you.
So in this post, we are going to show you….
How to create a page using our Website Builder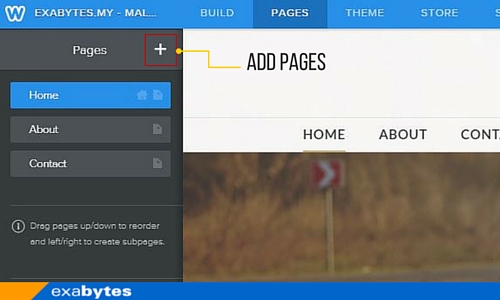 Step 1: Click on "Pages" on the blue navigation bar and you will be directed to an interface like below.
Step 2: Here you can simply add pages by clicking on "+"
Note: The number of pages that you can add depends on the hosting package that you signed up for. You may view it HERE.
Step 3: When you're done creating the pages you want, click and start building in the elements for the pages you've created.
Step 4: The first thing you need to do for your pages is to choose the layout style.
There are many options for layout style. If you have no idea which to choose, you could choose based on these categories: home, contact, about and portfolio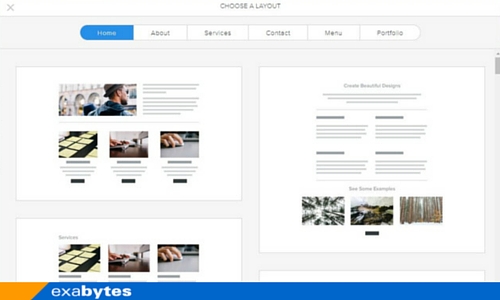 Step 5: Next, you might want to play around with the 3 big elements as follows:
Landing page
Visibility
Advanced
#1 LANDING PAGE
Technically, here is the place where you can change the header type (How you want your header to look like).
The types of header available are:
Tall Header
Short Header
No Header
Landing page
Splash
#2 VISIBILITY
This is the setting that allows you to restrict access to pages on your site.
It can be public (anyone can access)
Password protected (only those with password can access)
Members or groups only (only certain members/groups you created can access)
#3 ADVANCED (IMPORTANT!!)
This is the setting that allows you to set the SEO title, descriptions and keywords so that your potential customers can find you!
So here are some basic steps on how you can build your pages easily, we hope you find it useful!
Next on, we will be discussing on the elements available and how you can make your website beautiful and appealing.
Stay tuned!