How to be a B2B E-Commerce Superstar Seller in Super September?
😮Did you know that 80% of #B2B sales transactions occur via digital channels?
💥If you're an exporter and still sourcing for B2B buyers online, why not consider joining the world's largest B2B E-commerce platform?👀
In this webinar, you will learn:
✅How Alibaba.com brings you success
✅How to join the Super September, world's largest online trade show
✅Get the latest industry global buyers' data
✅Be the next million dollar seller!💪💪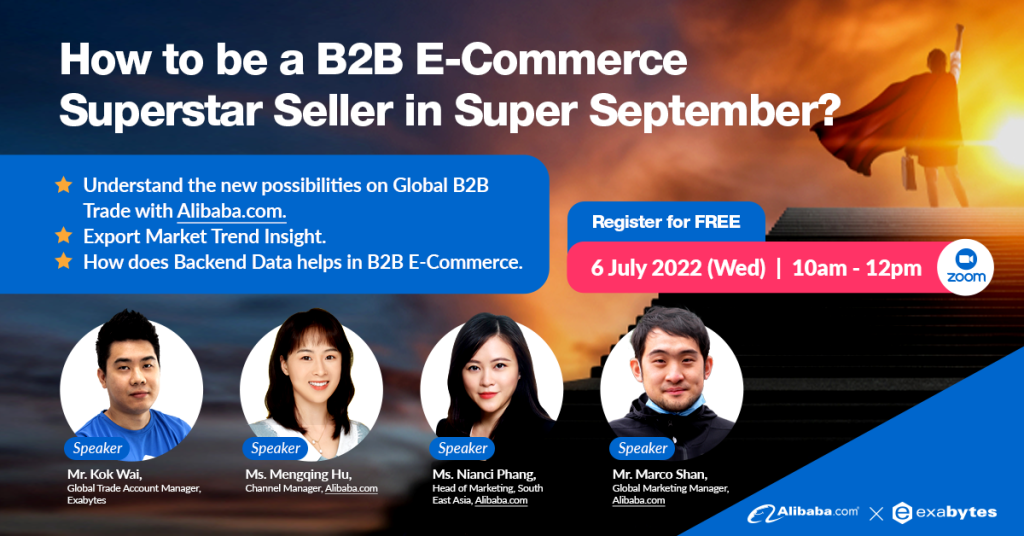 How to be a B2B E-Commerce Superstar Seller in Super September?
📆:6 July 2022
🕙:10am-12pm
💻:ZOOM
Join this insightful-driven webinar to grow your business today!
Who Should Join Us?
Manufacturers/Wholesalers: CEOs/Business Owners/Marketing Directors/Operation Directors who are ready (or still considering) to start an export business.
Speakers' Backgrounds
Kok Wai, Digital Marketing Consultant, Exabytes
Kok Wai had five years of experience working in different industries before joining Exabytes as a Digital Marketing Consultant. Thanks to his vast career experience, he has mastered effective sales skills for the B2C and B2B markets. His customer portfolio consists of SMEs and big corporations in Malaysia. In the past three years, he has successfully assisted over 100 business owners to generate more than 1 million export sales annually.
Ms. Mengqing Hu, Channel Manager, Alibaba.com
Alibaba GGS head merchant service consultant, person in charge for supporting domestic trade enterprises to obtain export orders as well as responsible for European and American channels.
Ms. Nianci Phang, Head of Marketing, South East Asia, Alibaba.com
Highly experienced marketing professional in integrated marketing strategy within a diverse range of industries, especially in tech and e-commerce companies. Specialist in branding, lead generation, performance marketing, business development, and government partnerships. Presently the Marketing and Business Development leader for Alibaba Group's leading B2B e-commerce platform  in growing our SME customer segments in Thailand and Malaysia.
Mr. Marco Shan, Global Marketing Manager, Alibaba.com
Lead content strategy, global marketing, branding & social media for Alibaba.com's overseas seller acquisition team.
Develop content strategy for web presence, blogs, seller success stories and marketing events.
Produce market outlook 'Digital B2B Outlook 2022' in 7 targeting countries and regions.
***If you have any difficulties registering for this forum, please contact our team (Whatsapp Kok Wai: +60 12-519 5286 ) for further assistance.