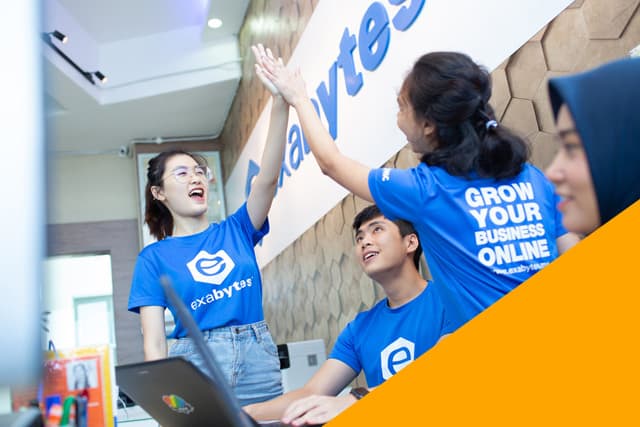 We work hard! We play hard!
Founded since the year 2001, Exabytes grew to be one of Southeast Asia's leading cloud, eCommerce and digital solutions provider today, We power over 160,000 businesses worldwide with the 4 most important values in mind: Reliable, Affordable, Simplified, and Advantage (RASA), using the power of technology to help our customers and you ~ GROW Your Business Online.
It is all about growing together, having fun while soaring and thriving to achieve our goals at Exabytes. We are passionate about nurturing talents as we progress as a company, and as individuals. If you've got great interest and passion, or you're one who is looking to learn and grow digitally, Exabytes is a home you'd want to be, where you'll see your talents and potential shine.
WHAT IS SO ATTRACTIVE?
Forget about the traditional "Law of Working"!
At Exabytes, we believe work should be fun and passionate.

Samsung SMART TV
The new and trendy Samsung SMART TV in our fun room lets you connect your mobile to it, play 3D games, watch your favourite 3D movies and make a few comments through social hub.

Gaming Centre
Firm believers of "Work Hard, Play Hard", Exabytes' fun room is equipped with the lastest PS4 -oculus, Wii, Xbox, etc for its employees to unwind, recharge and disconnect from their work. Join our gaming sesh!

Dual View Monitors
At Exabytes you are provided a dedicated laptop and 24inch monitor for better work efficiency. Better viewing and greater pleasure at work.

Employee Of The Month
Every month our Employee of the Month judges will choose an outstanding star and award him/her with not only the highest recognition, but also financial reward.

Indoor Gym
Check in to Suntech's indoor gym after a busy day at work before heading home. Besides staying healthy, you also get to avoid traffic jams after work.

Sauna and Steam Room
Wish to break a sweat but not the type who enjoy exercise and gym? Use the free facilities to refresh while enjoying a few chats with colleagues.

Indoor Business Cafe
Meet new friends and colleagues at the indoor business cafe, share a few laughs and drinks and re-energize before you begin a busy day.

Team Building
Enjoy fun and exciting annual team building at adventurous places such as Pulau Jerjak while learning the true spirit of teamwork.
A fun bunch to work with, the team at Exabytes are fearless thinkers and goal achievers. We strive to offer the best and to be always at the top. Our office is set in a modern, fun, creative, and relaxing environment, so you can work in a comfortable place and play in our designated fun zone.
Want to join the family? Check out our vacancies:
We learn, we create, we GROW, we play and we are appreciated.
A cool and modern office setting.
Relaxed, yet in a professional environment.
Fun bunch of colleagues.
Company outings (ex. paintball, camping, private movie screening, sports tournament, etc).
Medical benefits.
Gym and Sauna facilities.
Dual monitor for your working station.
Dual View Monitors for all technical team members.
Frequent staff activities, events, and quiz sessions.
Attractive prizes for staff activities.
Free coffee, tea, and snacks provided in the pantry.
Past Team Building Events
Jerejak Island
Langkawi Island
Sports Tournament
Ping Pong Game
Annual Dinner
Wii Competition
Makan-makan
PaintBall
Penang Hill
Many more…