Exabytes Malaysia Data Center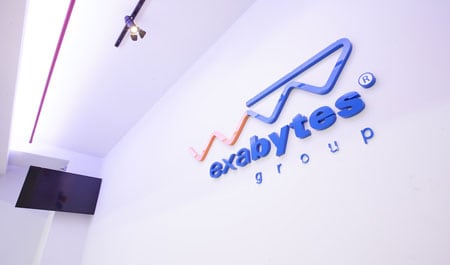 Exabytes Malaysia Data Center has multiple backbones from Tier 1 ISPs which allow global reach and fantastic QOS. It is the only IP transit service in Malaysia that provides SLAs. Connected with good latency to major destinations worldwide and an estimate of 0.01% packet loss rate across the network. The various environmental aspects of the data center including power, cooling, fire suppression and security are looked after by a central management system. The Exabytes Malaysia Data Center NOC monitors this system 24x7x365. Read More.
Exabytes Singapore Data Center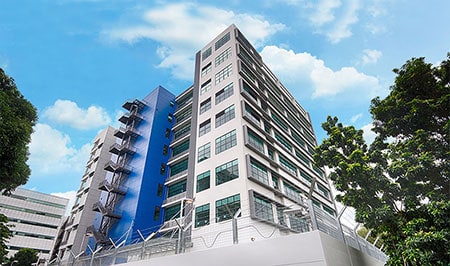 Exabytes Singapore Data Center is a single-tenant, free standing Tier III facility, certified by Uptime Institute, within its own secure compound. This facility is designed to comply with the Monetary Authority of Singapore's stringent security guidelines for data centers confirmed by independent, third party Threat Vulnerability Risk Assessment (TVRA).
With maximum 10 kVA power density, Exabytes Singapore Data Center is ideal for customers with high-power, high-availability requirements, offering them a conveniently located carrier-neutral facility with access to round-the-clock support from data center experts.
Part of the newly-launched Telstra Enabled Network (PEN), the first pan-Asia Network-as-a-Service (NaaS) architecture enabling organizations to provision network resources within minutes across multiple sites, Exabytes Singapore Data Center interconnects with other PEN-enabled facilities to offer customers the flexibility to create a truly virtual Asia-Pacific data center. Read More.
Exabytes US Data Center
In early 2015 Exabytes US Data Centre signed a long term lease and began prepping their new data center space located in the Denver Tech Center area, about 25 minutes south of the downtown Denver data center. We have a sizable cage and two private offices at the data center. The entire facility boasts some very impressive specifications, including over 15 years of continuous uptime.
In the event of a utility power failure, diesel generator will start immediately and carry the entire data center load. The data center facility is located in a building that has 24×7 on site security. Their network is powered by a pair of redundant Juniper M5 routers and Cisco 6500 series switches. All of our edge and core equipment is interconnected in a full network mesh to provide maximum redundancy and salability. Read More.
Exabytes Indonesia Data Center
Exabytes Indonesia Data Centre adalah perusahaan penyedia premium neutral-carrier colocation server dan data center di Indonesia sejak tahun 2009. Exabytes Indonesia Data Centre merupakan salah satu pioneer data center di Indonesia yang telah memiliki sertifikat tier 3 dan ISO 9001 sebagai tolak ukur standarisasi internasional pada kualitas manajemen sehingga Exabytes Indonesia Data Centre akan tetap menjaga komitmen mereka untuk memberikan pelayanan terbaik di seluruh kegiatan operasionalnya.
Cyber 2 Tower (JL. HR Rasuna Said, Jakarta Selatan) adalah gedung dimana Exabytes Indonesia Data Centre dan kantor Exabytes Indonesia berada, merupakan area pusat bisnis di Jakarta yang bangunannya di rancang khusus untuk data center dengan tingkat pengamanan yang tinggi. Data Center-nya sendiri ada di Lantai 2, artinya kantor Exabytes Indonesia berada di gedung yang sama dengan Data Center-nya, sehingga bila muncul permasalahan, proses perbaikan sistem bisa kami lakukan dengan cepat. Read More.