This Webinar Has Ended
=====
***If you have any difficulties registering for this webinar, please contact our team ( Whatsapp Keith)  for further assistance
The world has been facing the Covid-19 pandemic in the past two years, and the impact on SMEs around the world has been disproportionate. However, the good news is Malaysian businesses are uniquely placed in a position to bounce back by leveraging cross-border export opportunities.
Indeed, with Malaysia's robust trade infrastructure, its position as a regional e-hub, and a favorable image by international buyers, many local SMEs have an upper hand in exporting to overseas wholesale buyers online.
 Alibaba.com – As the world's largest B2B Marketplace platform, Alibaba.com connects exporters and international buyers with its powerful Algorithm. 
Instead of waiting for the next in-person exhibition, why don't venture into international trade digitally? Expanding to overseas markets using the power of B2B Marketplace platforms is now essential for any business seeking to sustain and grow.
In this webinar, we will explore how the powerful Alibaba.com Algorithm helps exporters from A-Z, including finding buyers around the world, completing the transaction and goods delivery.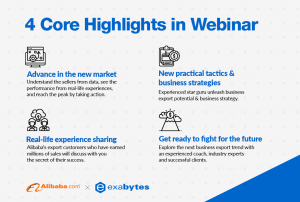 You are in the RIGHT Place if you are considering expanding your business globally through online international trade. 
**This is a once-in-a-lifetime opportunity to learn all the above as there won't be any video recording for the session. 
Export Strategies 101: Utilize Alibaba.com Algorithm to Generate More Potential Sales

Date: 21 October 2021 (Thursday) 

Time: 10:00 AM – 12:00 PM

Platform: ZOOM
Who Should Join Us?
Manufacturers/Wholesalers: CEOs/Business Owners/Marketing Directors/Operation Directors who are ready (or still considering) to start an export business.

Agenda
[10:00 AM to 11:00 AM] Embrace Global E-commerce with Alibaba.com

 By Andrew Wang. Regional Channel Manager. Alibaba.com Malaysia
[11:00 AM to 12:00 PM] Export Strategies 101: Utilize Alibaba.com Algorithm to Generate More Potential Sales

 By Cheong Peng, Business Development Manager, Exabytes
Speakers' Backgrounds   
Raymond Ho, Digital Marketing Consultant, Exabytes
Raymond is passionate about helping Malaysian businesses explore global trading and export to different countries. He started his career at Exabytes in 2020 as a Digital Marketing Consultant and has so far worked with more than 50 local SMEs, including those in the F&B and chemical industries, to gain excellent exposure on Alibaba.com and achieve good results in Digital Marketing. Additionally, Raymond has received the award 'Alibaba Malaysia Quarterly Top Sales' (Sep 2020 – June 2021) for assisting more than 20 Malaysia businesses to succeed in export thru Alibaba.com.
Cheong Peng, Business Development Manage, Exabytes
Cheong Peng was in the media industry for more than 16 years. Prior to joining Exabytes, she gained immense experience at Star Radio and Astro Malaysia. With her vast experience in serving hundreds of SMEs and global brands, she now leads a team to provide digital marketing, eCommerce, New Retail, and Alibaba solutions to local SMEs, helping brands in growing their businesses across different verticals.
Andrew Wang, Regional Channel Manager, Alibaba.com Malaysia
Andrew joined Alibaba.com in 2020 as a Senior Channel Manager for the entire Malaysian market. Having gained his experience in online business and retail business in Western Europe, Andrew has a unique viewpoint and an effective strategy when it comes to boosting sales. Today, he is applying his expertise on the B2B market on Alibaba.com to help more Malaysian SMEs in acquiring buyers and discovering new business opportunities.