Protect Your Site – Build Customer Trust!
What Is SiteLock™?
SiteLock performs daily scans of a website to identify vulnerabilities and protects against threats like viruses, cross-site scripting, SQL injection and even email blacklisting. SiteLock scans your websites and alerts you if there is any vulnerability found on your website or when your website is blacklisted by Google to avoid costly business losses.
Establish Trust
The SiteLock Trust Seal provides customer confidence and increases your sales and conversions.
Increase Sales
Displaying the SiteLock Seal increases conversion rates on your site. It will give your business instant credibility & trust in the eyes of customers.
Daily Scanning
SiteLock automatically scans your website for vulnerabilities and malware to ensure they are not being blocked or spammed.
Business Verification
Validates that your business exists and can be trusted.
Spam & Malware Monitoring
Checks your site daily to make sure you're free of spam and malware.
Website Secured
With Sitelock installed in your website, you get instant alert when there are attacks from malicious users or hackers.
Exabytes is a SiteLock partner offering three SiteLock products that are available to our web hosting customers only.
Compare SiteLock Packages:
Malware Scanning
When your website is infected with malware, your visitors' computers will be infected with viruses after visiting your site, which in turn causes frustration, anger, and distrust with them. With SiteLock, viruses on your website will be identified, and you will be notified immediately so that we can help you REMOVE it.
Blacklist Monitoring & Reputation Management
SiteLock's patent-pending 360-degree scan makes sure your website is not banned by search engines. It also effectively ensures that your emails reach your customers' inbox, and Not their spam folder. Lastly, SiteLocks prevents your visitors from seeing warnings about data security (SSL certificate) when they visit your site by consistently checking your SSL expiry date and compliance with web browser expectations.
Secure Malware Alert & Removal Tool (SMART)
The complex SMART scan takes a deeply comprehensive look at the surface of your website from the outside-in. If any malware is detected, the automated tool quickly REMOVES it so that your website does not become blacklisted or incur any downtime. Your visitors will enjoy a consistent secure experience when visiting your website.
Application Scanning
SiteLock verifies the applications you've installed on your website. As application versions age (like Windows 2000 or WordPress 1.0) and become vulnerable to hacking such as Cross-Site Scripting or SQL injection, SiteLock reports it to you immediately and can help you upgrade your applications to secure your site.
Database Protection
SQL injection, a type of hacking that illegally gains access to the database records such as credit card data is an extremely damaging attack to vulnerable websites. With SiteLock, the risk of your website being compromised by hacking of this nature is also greatly reduced.
Network Security
Some ports of network servers need to stay open (e.g. the port for web content on your Internet server) while others should not be (e.g. the e-mail or database ports on the same server). If hackers successfully gain access to your network, they could steal data, deface your website, or worse. SiteLocks checks each port (thousands) on your servers to make sure that only the appropriate ones are open and protect them using strong security.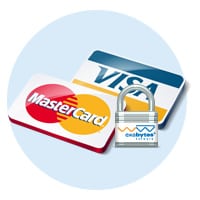 PCI Compliance *Extra Fees Apply
PCI is a security required by the major credit card brands (Visa, Mastercard, Discover and American Express) to reduce fraud and bring all companies who take credit card payment up to a minimum level of security. The penalties for not complying with the PCI regulations are very costly. SiteLock offers a simple online SAQ (Self-Assessment Questionnaire) that guides you through the PCI application process and makes it a simple, one-stop shop for SMB professionals so that you can focus on running your core business.
Frequently Asked Questions
What is SiteLock?
SiteLock protects your website from various security problems, and shows your visitors that your site is safe.
Once installed, SiteLock Basic performs numerous scans of your website, finding security breaches including malware, email vulnerabilities, and other problems. When the various scans are complete and your business is verified, you can display the "SiteLock Secure" badge on your site, letting your visitors know that your site is officially safe and problem free.
Is my website data safe?
Absolutely. SiteLock does not modify any of your website data or applications. We simply scan your site, much like your PC anti-virus scanning software. We identify potential problems and notify you of them. If you need help fixing any issues, our expert services team is available to provide technical support.
How can I order SiteLock?
Exabytes® is a SiteLock partner offering three SiteLock products that are available to its web hosting customers only. Get Started Today!
What must I do if SiteLock found vulnerabilities on my website?
Most of the time, the vulnerabilities were due to outdated versions of open source web applications installed on your website such as Joomla, WordPress, Drupal, etc.
What you need to do is generate and download a full backup of your website, and perform an upgrade of your web application to the latest version. If you are using a custom developed web application, then you shall contact your website developer immediately.
What will happen if I ignore the vulnerabilities of SiteLock?
Your website might potentially get hacked and cause disruption to your website. Your website might also be used as medium for sending out SPAM or hacking another vulnerable website.
Isn't it Website Security my web host's responsibility?
Exabytes will ensure the server and network which your website is hosted on are secure. However, the security of your website or web application layer needs the cooperation from you as a website owner as well as your Webmaster or Web Developer.
Simple Rules of Thumb:
Password. Make sure you use strong passwords that have a combination of alphabets, numbers and special characters. Use different passwords for different logins; change your password once at least every 3 months.
Open Source Web Applications. Make sure your web applications are always up to date. If you are using the pre-installed apps from your cPanel cPAddons, SiteSoftware or Softaculous, you can upgrade easily to the latest version using the one-lick "Upgrade" button inside your cPanel.
Unused Web Application. Make sure your web applications that are no longer in use or for testing purposes only are disabled or deleted.
Folders and Files Permission. Make sure you don't allow "All Writeable" and "All Executable" to all your files and folders. Only grant the required permissions to selected folders and try to avoid granting both "All Writeable" and "All Executable" to the same folder.
Terms And Conditions
Promotion price is applicable to new registration only. For renewal, the price will be reverted to default price.
Submitting your order(s) to Exabytes does not mean your requested domain(s) is/are already registered until payment confirmation is received.
Exabytes reserves the right to amend the terms and conditions of this offer without any prior notice.
If you have any further questions or concerns, please contact us.