Protect your business with complete and reliable backup images of your entire vSphere VM, files, or data. Easily recover a complete image or selected files, folders, items, and applications.
Reduce the time it takes to react and resolve issues with smart, aggregated alerts, eliminating the need to sort and filter multiple notifications about the same issue.
Significantly reduce backup time, network usage, and storage requirements with seamless integration with VMware Changed-Block Tracking (CBT).
Protect your users from ransomware attacks with technology that actively detects, blocks, and reverses suspicious changes to data, including backup files and backup agents.
Ensure the authenticity and integrity of backups by storing backup file checksum certificates in the blockchain database and detect unauthorized changes to your backups before you recover.
Verify the authenticity of your files by digitally capturing electronic signatures on a backed-up document and generating unique certificates that contain images of the signatures, timestamps, and other information.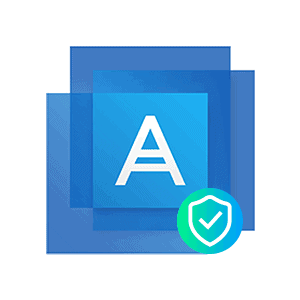 Available in Standard and Advanced editions, Acronis Backup 12.5 is the world's easiest and fastest backup solution for all your data, whether it is located on-premises, in remote systems, in private and public clouds, or on mobile devices.
With Acronis Active Protection from ransomware, enhanced backup validation, and blockchain-based authentication of your backups with Acronis Notary, Acronis Backup 12.5 is the most reliable backup solution available today.
And, Acronis Backup 12.5 is the most complete solution, protecting all your data with the best-in-class backup of physical Microsoft Windows and Linux servers; virtual VMware vSphere, Microsoft Hyper-V, Citrix XenServer, Red Hat Virtualization, Linux KVM, and Oracle VM Server; cloud Microsoft Office 365 mailboxes, Microsoft Azure VMs, and Amazon EC2 instances; Oracle Databases; Microsoft Exchange, SQL Server, SharePoint, and Active Directory applications; local and remote Microsoft Windows and Mac workstations and laptops; as well as iPhone, iPad, and Android devices.