Acronis Cloud Backup & Recovery Solution
Acronis Cloud Backup provides safe, secure and scalable data protection, bare-metal recovery, and on-site and cloud backup of any data – anywhere, anytime. It is a fully managed service – let us take care of your data protection so that you can focus on your primary business tasks!
Acronis Cloud Backup backs up disks, partitions, and files from both physical and virtual servers to our storage in a secure data centre while allowing quick recovery of files, folders, applications, or even an entire system via an easy-to-use web console.
Using hybrid local and cloud protection you need in the event of a disaster. Acronis Cloud Backup Engine does not only backup your data to a local storage on your premises for quick recovery. 
Protect Your VM and Server Data, Give Them A Second Life
You Don't Have to Be Big to Get the Best!
Seek a reliable and simple strategy to protect important data from IT disasters?
Look to replace tape and other legacy backup solutions?
Need complete protection for critical data and systems?
Then, Acronis Backup is what you are looking for!
No complicated hardware and software setup
Exabytes Acronis Backup is a web-based application. To back up your data, you only need to install a Backup Agent on your servers – you can then manage and monitor system protection with a web-based console.
Backup and recover files, folders, and even complete systems
Use disk imaging to backup entire systems in one easy step. You may also choose to backup individual files, folders and even application data. All can be restored with a just few simple clicks or taps.
Manage all backup on mobile-friendly web consoles
Assign backup plans, restore data, review status updates, generate reports, and receive alerts for any physical server or VM – all from a single web console accessible from any device, including your mobile!
Flexible backup plans
Schedule full backups on a daily or weekly basis, all while backing up certain folders more frequently. You can also configure backups to multiple locations for better protection, or even use incremental, differential or custom schemes. It's all up to you!
Dual protection with local & cloud storage
Stage backups to local disk and automatically replicate backups to network folder or secure cloud storage. Local drives are useful for fast recovery. Cloud is always available and accessible from anywhere.
Simplified system migration to new and dissimilar hardware
Create an exact replica of your servers. Then, you can restore the replica to existing, new, or different hardware without worrying about incompatibilities via bare-metal recovery.
Instant system restore
Reduce recovery time significantly by mounting and running any physical or virtual Windows or Linux system backup as a VMware or Hyper-V virtual machine (VM), mounting it directly from the backup storage via virtual storage emulation. No data movement necessary!
Encrypted backup with password protection
Encrypt data locally before sending it to the secure cloud server to ensure the maximum privacy for your data. Since you are the only person who can set the password, only you can access it!
Support Platform
Microsoft Windows

Server 2012 / 2012 R2

Server 2008 / 2008 R2

Server 2003 / 2003 R2

SBS 2003 / 2003R2 / 2008 / 2011

MultiPoint Server 2010 / 2011 / 2012

Storage Server 2003 / 2008 / 2008 R2 / 2012 / 2012 R2

2000 SP4 Professional, Server and Advanced Server

8.1 / 8 / 7 / Vista / XP SP2+
Linux

Red Hat EL 5.x, 6.x, and 7.1

Ubuntu 12.04 ~ 14.10

Fedora 18 ~ 21

SUSE SLES 10 and 11

Debian 6 ~ 7.7

CentOS 5.x ,6.x, and 7.x

Oracle Linux 5.x and 6.x

Any other x86/x64 Linux with kernel from 2.4.20 to 3.16 and glibc 2.3.2 or later
Virtual Hypervisors

VMware vSphere (ESXi) 3.5r2, 4.0, 4.1, 5.0, 5.1 and 5.5

Microsoft Windows Server 2008 / 2008R2 / 2012 / 2012R2 with Hyper-V

Microsoft Hyper-V Server 2008 / 2008R2 / 2012 / 2012R2

Citrix XenServer

Red Hat

Enterprise Virtualization 2.2, 3.0

Linux KVM

Oracle VM Server for x86
Not an IT Expert?
Acronis Backup makes your backup and recovery exceptionally easy:
Recover a server to new, different hardware without worrying about incompatibilities
Install and configure quickly with few clicks or touches
Access easy-to-use web console from any mobile device
Eliminate guesswork with smart backups that capture everything needed for complete recovery
Back up and recover Microsoft Exchange, SQL Server, and Active Directory, including granular recovery of individual emails and documents
Migrate your systems to virtual or cloud servers effortlessly
Backup compression
Save backup data in the proprietary TIB format using compression that reduces the amount of storage space needed for backups.

Custom commands
Run any commands and scripts before and after backup to create your own custom backup workflow. For example, run a script to delete temporary files.
File exclusions
Optimize size of backups by automatically filtering and excluding files you don't need to keep.

Fast incremental or differential backup
The option is effective in Windows and Linux operating systems and bootable media. It captures only data changes, and speed up the overall backup process.

Automatic backup cleanup
Limit the number/duration of versions, or setup backup size limits to optimize storage usage. This is especially important when backing up multiple computers to one storage location.
Upgrade easily
Enjoy the flexibility of selecting the size of storage you need for your servers or VMs – you can simply switch to a higher plan for more resources when your infrastructure grows!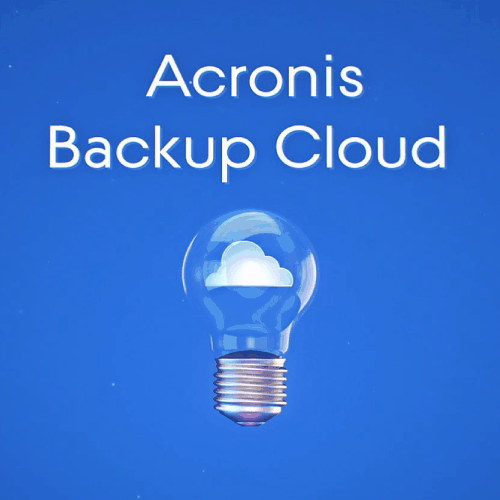 Exabytes Acronis Cloud Backup is Powered by Acronis with World's Fastest & Easiest Backup and Recovery
Acronis is a leading provider of easy-to-use disaster recovery and data protection solutions for physical, virtual and cloud environments. Its patented disk imaging technology enables corporations, SMBs and consumers to protect their digital assets.
With Acronis' disaster recovery powered by AnyData Engine, deployment and migration software, users can protect their digital information, maintain business continuity and reduce downtime. The Acronis AnyData Engine, built on advanced technology and fueled by over 50 patents, is the easiest-to-use and most innovative data protection technology available for capturing, storing, recovering, controlling, and accessing the critical information your business depends on.
Acronis software is sold in more than 90 countries and available in up to 14 languages.